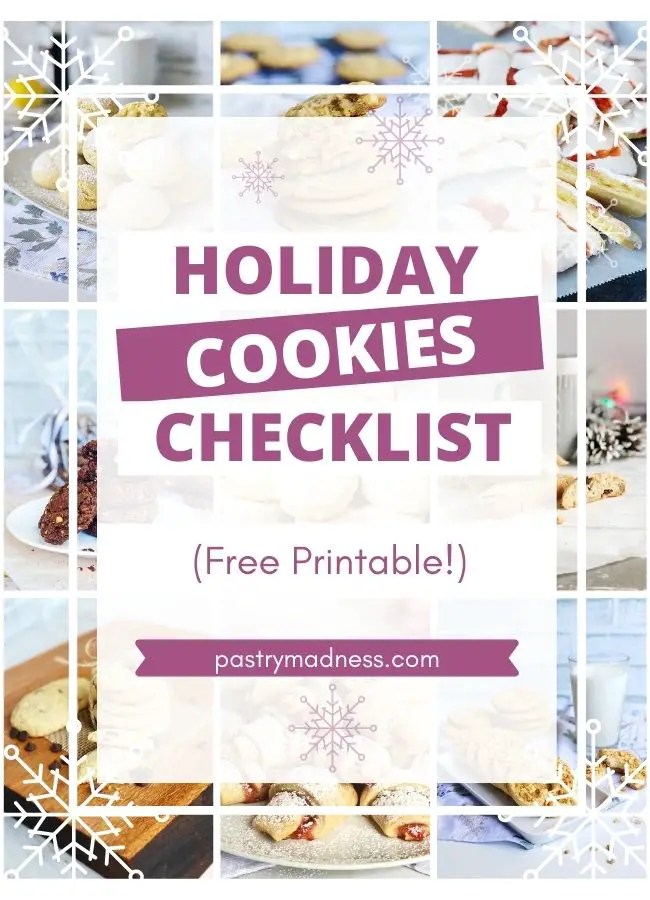 It's the beginning of November and it's time to start planning your holiday baking treats.
This post may contain affiliate sales links. Please see my Full Disclosure Policy for details.
From a wide variety of holiday baked goods, my favorite to make are COOKIES! They are easy and fast to make, they are fun to decorate (especially with kids), they make a great present to friends and family and they are delicious with a cup of coffee any time of the day.
Every year I make sure to keep my pantry stocked up for all my holiday baking, but specially for making cookies. The last thing everyone wants to do, is to rush out to the store for a missing ingredient and find an empty shelf.
That is why I decided to create this FREE Printable Checklist to help you keep everything in check for holiday fun.
Most of the baking ingredients I'm getting from my local grocery store, but some of the things I'm ordering online. Most of them are decorating essentials and baking supplies.
I'm sure that some of the stuff you already have but if not, here they are:
In the next few weeks I'm planning to post new cookie recipes, DIY sweet gift boxes and more, so subscribe to my blog and don't miss them.
Check out some of my recipes that are already on the blog:
Keep in mind:
Check the expiration date when you are shopping for ingredients.
Always bake with ingredients at room temperature (unless otherwise specified in the recipe)
Keep the nuts in the refrigerator or freezer to prevent them from going rancid.
Store the spices in a cool and dry place.
Use an oven thermometer to bake the perfect cookie batch.
Bake one butch at a time.
Always bake in a good mood!
Happy Holiday Baking, everyone!